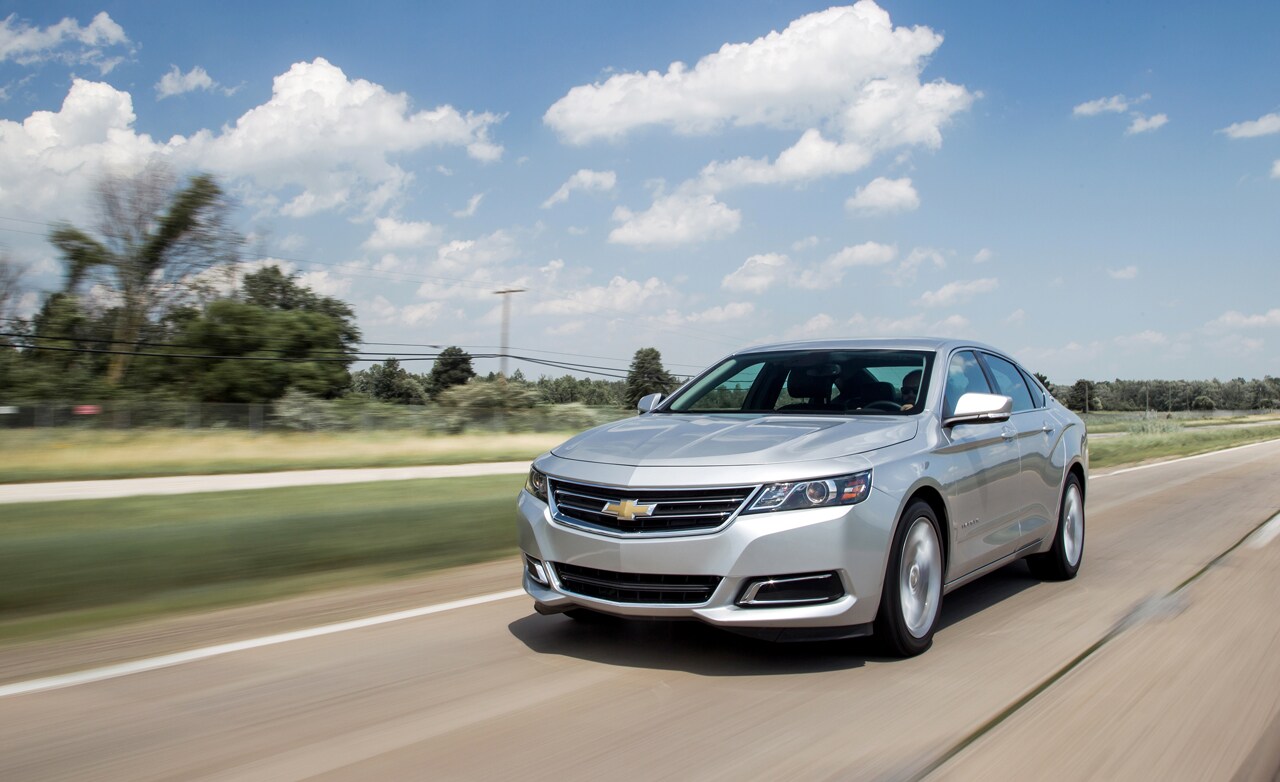 Finding an incredible vehicle that fits your lifestyle doesn't happen easily, not all the time anyway. When you are having trouble finding the right combination of price, features, and overall reliability, come see the automotive experts at Rydell Auto Outlet. We set out each day to improve the lives of our customers by helping them find the best option. If you have been searching for used Chevrolet in Minneapolis, we have the inventory that will make your search quick and simple. Whether you decide to finance or buy outright, our financial department will help you every step of the way. If you are ready to begin, let us help!
Used Chevrolet Impala in Minneapolis
The used Chevrolet Impala in Minneapolis is a fantastic vehicle for families or individuals. If you are tired of driving to work in a car that is showing major signs of wear and tear, or you are just tired of spending an arm and a leg every time you fuel up at the pump, the Impala will have your back. Its first-class fuel efficiency, combined with its reliable and safe track record, make this one of the best-selling sedans on the market. Take one for a test drive and see all it can offer you and your family!
Used Chevrolet Tahoe in Minneapolis
If you are looking for the versatility of a truck combined with the comfort of an SUV, we highly recommend taking a test drive in a used Chevrolet Tahoe in Minneapolis. Built on a truck platform, the Tahoe provides the power and capability you need to haul or tow equipment and cargo. It isn't just a great workhorse, though. This SUV has a comfortable and quiet interior that is spacious enough for your big or growing family.
Used Chevrolet Silverado in Minneapolis
If you love power, then a used Chevrolet Silverado in Minneapolis could be a wonderful fit for you and your lifestyle. This incredible truck is a phenomenal companion for the job, but doesn't compromise features or comfort. It is an excellent choice to use on the ranch, with its towing capabilities and powerful engine. For the family, newer models are equipped with great entertainment features and an overall superior level of comfort. Explore one today at Rydell Auto Outlet!
Other used Chevrolet in Minneapolis
Used Chevrolet Spark
Used Chevrolet Sonic
Used Chevrolet Cruze
Used Chevrolet Malibu
Used Chevrolet Volt
Used Chevrolet Trax
Used Chevrolet Equinox
Used Chevrolet Traverse
Used Chevrolet Suburban
Used Chevrolet Colorado
Used Chevrolet Express