Used Cars, Auto Repair, & New Suzuki Motorsports Near The Twin Cities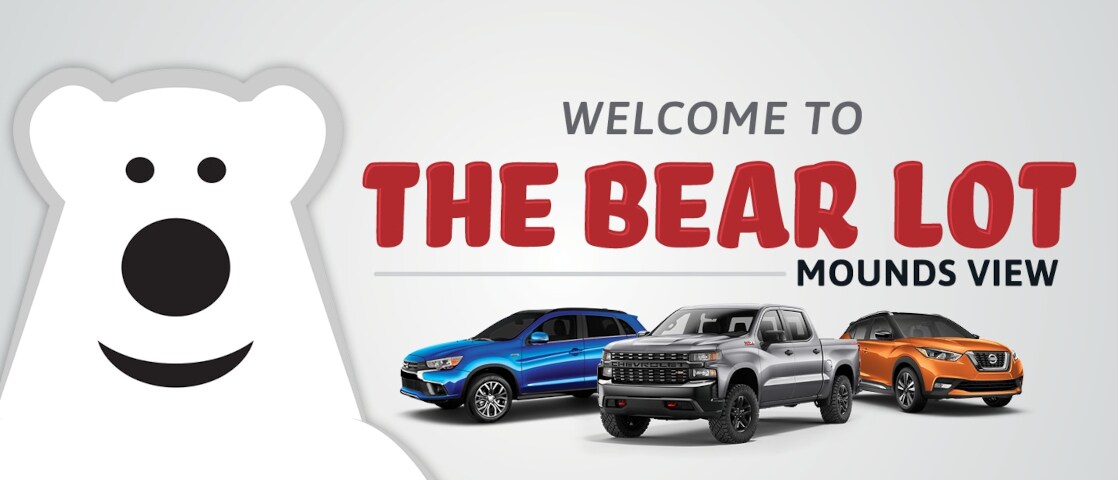 The Bear Lot Serving the Twin Cities
If your budget is tight or you just don't want to spend the extra money on a brand-new vehicle only to have it depreciate right off the lot, you'll want to consider a used model. The Bear Lot carries a wide selection of pre-owned vehicles as well as motorcycles and ATVs. If you live or work around St. Paul, Minneapolis, or Mounds View, you'll want to visit the premier pre-owned vehicle dealership for the Twin Cities.
We offer a convenient location close to where you work and live.
Our in-house finance department can help you get an affordable loan.
Our premier service team will keep your vehicle running like a dream.
Give us a call to schedule an appointment, or just stop by to see our current inventory.
Schedule a Test Drive with The Bear Lot
If you want to know which model of vehicle or motorcycle is suitable for you, take it out for a spin. A test drive is the only way to decide if a model feels good and meets your needs. Stop by The Bear Lot for a fun test drive around Mounds View.
Finance Your Next Vehicle
Here at The Bear Lot, we make it easy to afford a newer vehicle or motorcycle. We offer in-house financing that fits your budget. Our finance experts will help you determine how much you can afford in monthly payments and get approved for a vehicle that you want. You can even get started by filling out our online finance application.
Vehicle Service Team
When you buy a vehicle from us, we want you to enjoy it for years to come. Our service team will take care of all maintenance and repairs on your vehicle to keep it providing reliable transportation. We provide a full range of services, including:
Battery testing
Tire rotation
Tire tread check
Wheel alignment
And much more. When it's time to replace a worn-out part, our team can diagnose the issue and make the repair as quickly as possible. We are dedicated to providing fast, accurate repairs to get you back on the road. Our team uses genuine OEM parts to keep your vehicle running smoothly.
Sights in the Twin Cities
Minneapolis and St. Paul are known as the Twin Cities, which are also the two largest cities in the state. Minneapolis sits mostly on the west side of the Mississippi River, with St. Paul on the east. You will find plenty of activities and attractions to keep you occupied during your time in the Twin Cities.
Luce Line State Trail: Go for a hike or horseback riding on an adjacent trail. This trail runs for 63 miles and offers a scenic view.
Wells Fargo Family Farm: See baby animals born each spring and learn how real farms work while enjoying square dance lessons and pony rides.
Visit a museum: The Twin Cities is home to several museums, including The Museum of Russian Art, Minnesota Children's Museum, and Bell Museum.
Mall of America: With over 500 stores, an indoor amusement park, and a butterfly garden, there's something for everyone.
Take a short trip to The Bear Lot from the Twin Cities to learn more about our reliable pre-owned vehicles and departments.